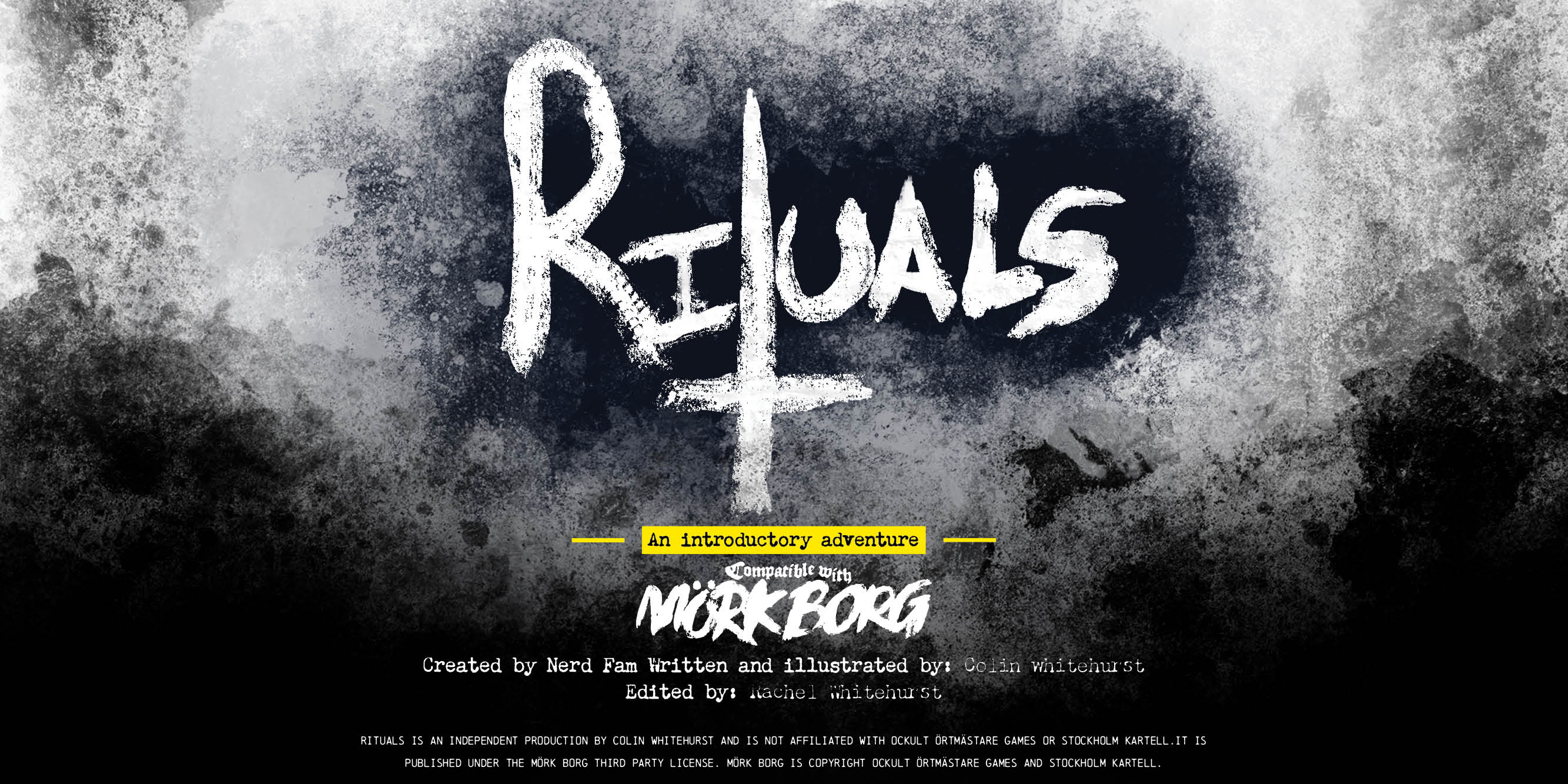 Rituals
Rituals
Beyond the forests of Sarkash, your players hear the wails of a Triangle Temple acolyte.
Writhing over her campfire, flames reflect in her single eye as she foretells the apocalypse.
13 priests have been abducted while gathering components needed to perform a ritual that, if performed within the next two hours, may prevent the end of the world.

Rituals is an introductory adventure written for the Mörk Borg system. A recommended 2-hour time limit should make Rituals the perfect one off to incorporate into a campaign when you're looking for a quick session, or introducing new players to Mork Borg.

Your players will explore the world, gather treasure, fight creatures, and hopefully, perform a ritual that will stave off the apocalypse.
What Do you Need To Play?
To play rituals you will need the Mörk Borg rule book, character sheets, pencils, and a set of D&D dice.
Pre-generated characters can be found at: https://scvmbirther.makedatanotlore.dev
If you do not have a D&D dice set, there are free dice apps in both the android and iOS stores. Do some googling.
Published under the Mörk Borg
third party license.
Rituals is an independent production by Colin Whitehurst and is not affiliated with Ockult Örtmästare Games or Stockholm Kartell. It is published under the MÖRK BORG Third Party License.
MÖRK BORG is copyright Ockult Örtmästare Games and Stockholm Kartell.
Download
Click download now to get access to the following files:
Comments
Log in with itch.io to leave a comment.
This is really cool! Any plans to make physical copies? I would totally get one.
Not at this time, but I'll post an update here if I ever do. Thanks for your interest!
nice job keeping this with the style of rotblack sludge! can't wait to try this with my players soon
Awesome! Let me know how it goes! I'm about to update the document to reduce the bog creature's HP by 50% since I think we should make the final creature truly the big bad, so you may want to take that into consideration
thanks for letting me know! using this for the next session we meet